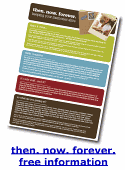 The Baby Box

Contents
Outer box
Store birth day newspapers, scrapbooks, first photos, dried 'congratulations' posies, horoscope charts, Christening or other important robes, even baby's first teething ring!

Flip-top box
Perfect for hospital ID tags, baby's birth certificate, congratulations cards and messages, baby's first shoes or favourite teething ring…

Standard box
For diaries, DVDs, baby clothes, much-loved toys, 'first birthday' and 'first Christmas' mementoes.

Tall box
To make the base of your box, fold up the two shorter sides marked '1' and then fold over and tuck in the two longer sides marked '2'.

Small boxes
Keep baby's first tooth. A soft curl of hair. Small pieces of celebration cake, carefully wrapped. Ideal for small and delicate items that might otherwise be lost or destroyed.

Acid-free and fade resistant pen

Archive tissue paper
Use to protect fabrics and other delicate items

Scrapbook borders
Use these frames to highlight special items in your scrapbook. They can be decorated by you (or your baby/toddler!) for special effect.

Box name cards
To be used in the outer and standard boxes under the flaps

Family Tree Sheet
An ideal bequest for any child – and a useful record for the whole family.

Baby Progress Chart/Health Record
Baby's weight, vaccinations, first sniffles, first words…keep every detail, from the very first smile! A personal record for you and your family… designed for you alone and not to replace other health records you must keep for your midwife etc.

Record folder
Pretty, colourful and all wrapped up in yellow ribbon!

Family history sheets (10)
Pregnancy record sheet (1)
Birth record sheet (One of each – boy/girl)
Baby's birth commemoration certificate. (One of each - boy/girl)
Early days record sheet (1)
Notes and memos (2 sheets)
Diary/storybooking sheets (4 sheets):
Designed to make it easy to create a written and visual record of baby's early life. This is how it all began…include your first photos, day by day impressions, your thoughts, hopes and wishes.
Post birth, 'first year' (1 sheet)
Parents' messages (1 sheet)
Brother/sister message (blue/pink – 1 sheet)
Grandparent messages (1 sheet)
Baby hand/footprint sheet (1 sheet)
Family/friend messages (1 sheet)
Gifts and thanks sheets (2 sheets)
'On that day' record sheets (2 sheets)
Letter to the future (1 sheet) order code: + sealable envelope
'Our family' (1 sheet)
In addition to a varied selection of boxes, record sheets and charts (see below), your Baby Box also contains a Certificate of Authenticity, a Certificate envelope, quantities of acid-free tissue paper (essential for wrapping delicate items), blue and pink tags, photo frame mount(s) an acid-free and fade resistant pen, a Family History research sheet, plain sheets of permanent (?) 200 year acid-free paper for downloads and additional records, plus yellow ribbon for securing collections of letters, cards etc.
A detailed and delightful collection of sheets which will encourage mum, dad and every other member of the family to treasure and preserve their memories of this very special time. An ideal way to keep all essential records together in one place – and a wonderful legacy for your baby and his or her own children in generations to come.
Click here to buy in our online secure store
See also our Baby Footprints page for free downloads.
* These Archive Storage Boxes meet international standards: ISO 9706: 1994 (Paper for Documents – Requirements for Permanence); ISO 14523: 1999 (Photographic Activity Test for enclosure materials) or Technical Association of the Pulp and Paper Industry T509 and T529 (surface pH measurement of paper).